Situated on the far northwestern coast of Washington state — along the Puget Sound — Seattle is a gem of the Pacific Northwest. Known for the iconic Space Needle, being the birthplace of Starbucks, its bustling tech scene, and the setting of the acclaimed 90s TV sitcom Frasier, this city has ample history and significance. The population of Seattle is 733,904, which equates to 8,750 people per square mile. The median resident age is 35.5, and the median household income is $110,781.
One of the best ways to invest is to purchase a luxury home in Seattle. If you've been actively considering the purchase of an upscale home or condo, the best first step is to research the richest neighborhoods in Seattle. We've created this list of the richest neighborhoods to live in Seattle using stats from reputable sources — including household income data from the US Census Bureau and home pricing data (e.g., median home sale prices) from Redfin.
You will be in good company as Seattle is home to some of the richest families in the US, including Jeff Bezos, Bill Gates, Steve Ballmer, and Howard Schultz – all billionaires!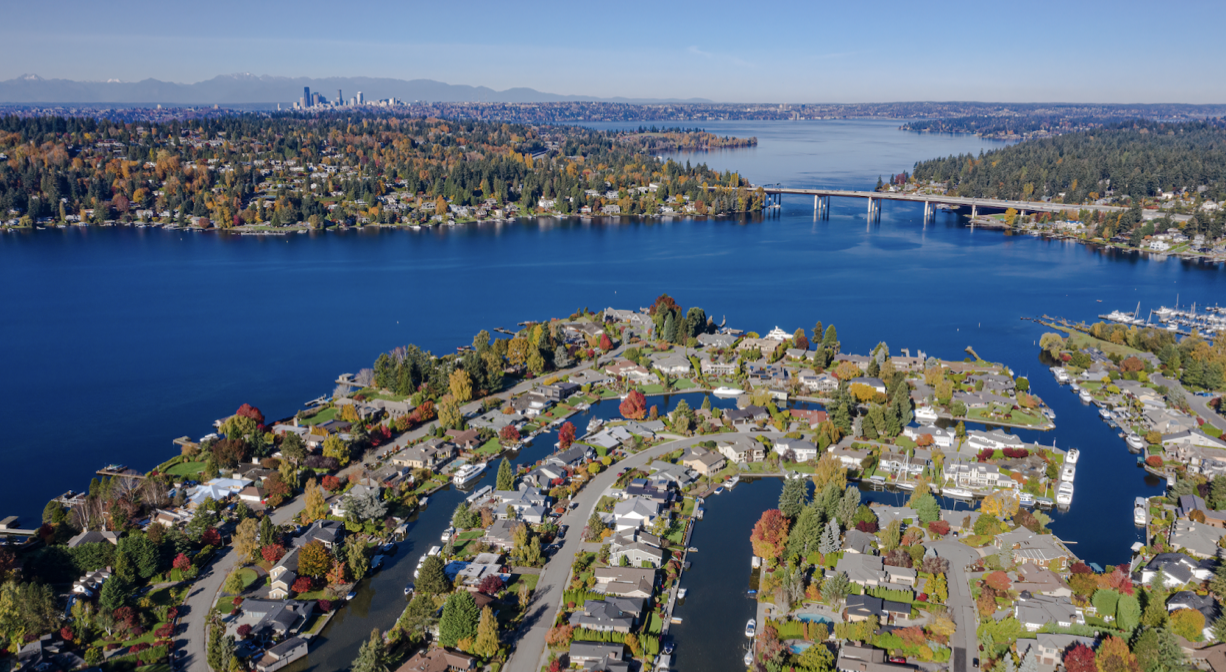 #1 Montlake
— $180,643 median income
Home to 5,012 residents, Montlake is the richest Seattle neighborhood. Located in the central part of the city, Montlake sits along Union Bay and provides access to many of the area's major roads and interstates. 
Featuring sprawling and luxurious homes with ample square footage and acreage, Montlake has properties for everyone. Residential areas are serene, tree-lined, and beautifully landscaped, creating a breathtaking look throughout the community. Locals also have direct access to some of the city's best attractions, including the Seattle Yacht Club, Montlake Playfield Park, the Arboretum Waterfront Trail, and 51.7-acre Interlaken Park.
#2 Broadmoor
— $170,340 median income
Regarded as the richest neighborhood in Seattle (based on income and household sale prices), Broadmoor is an exclusive gated community. Offering the height of privacy and seclusion, Broadmoor is nestled between Madison Park and the sprawling 230-acre Washington Park Arboretum.
Boasting scenic views and some of the area's best views, this neighborhood is an extremely sought-after place to live. As a result of its desirability, as well as its compact size, homes are seldom available in Broadmoor. On top of being within walking distance of the awe-inspiring Washington Park Arboretum, locals also appreciate residing near several top-rated schools — including McGilvra Elementary School.
Exclusive, private, and known as one of the most high-end communities in the city, Harrison/Denny-Blaine is one of the richest neighborhoods in Seattle.
Nestled along Lake Washington and bordering other idyllic communities such as Madrona and Washington Park, this affluent area has the highest incomes and median household prices in all of Seattle. It features tranquil residential communities that feel wooded and secluded. While many single-family homes are modest in size, numerous homes boast thousands of square feet of space. This is especially true along the lakefront, where there are rows of towering estates.
Harrison/Denny-Blaine is mostly residential yet offers a collection of community parks for locals to frequent. Several of the most popular parks in the neighborhood include Denny Blaine Beach and Park, Lakeview Park, and Viretta Park (which is also home to a memorial for late rock musician Kurt Cobain).
Tucked in the middle of Seattle's many other upscale neighborhoods, View Ridge is a cozy and charming community. The vast majority of the area's homes are situated atop elevated hills, giving residents superior views of the surrounding landscape.
As one of the richest Seattle neighborhoods, View Ridge delivers a marvelous quality of life through the top-tier conveniences and amenities it offers. Residents have quick and easy access to the Sand Point Country Club, View Ridge Playfield, and the expansive Warren G. Magnuson Park — which sits along the lakefront.
Almost exclusively residential and situated in a prime locale, Windermere is another one of the richest areas in Seattle. As with almost all of the other wealthiest Seattle neighborhoods, Windermere sits along the waterfront, giving residents stunning views and lake access.
Household incomes and home values are high throughout Windermere. Properties on and around NE Windermere Road are some of the most expensive, as they provide some of the best vistas and quick access to the water. Many of the homes in this area are also gated and obscured by lush trees and greenery as an added measure of privacy. Looking for an outdoor activity to fill your day? Worth multiple visits, the Warren G. Magnuson Park is only a short walk, bike ride, or drive away from the neighborhood. It includes access to a swimming beach, an off-leash dog beach, tennis courts, a children's garden, public restrooms, and more.
Sitting on the northern edge of Seattle along the Wolf Bay, the lavish Laurelhurst neighborhood offers storybook-like charm in an ultra peaceful setting. Tree-lined, immaculately landscaped, and brimming with character, few neighborhoods exude as much beauty at Laurelhurst. For those who desire waterfront living, there are select properties that sit directly on the Bay. Each of these properties provides awe-inspiring views, making life in this neighborhood well worth the investment. Inland homes brim with unmatched character and provide various size and space configuration options. 
Aside from the marvelous living options, the area's many millionaire residents have access to top amenities that are scattered throughout the neighborhood. Minutes from home, there are parks, churches, schools, lakefront views, and Seattle Children's Hospital. There are also several points where locals can access the waterfront, including the Northeast 31st Street East End, NE 31st St Public Shore, and Northeast 43rd Street End. Laurelhurst Playfield is a top family-friendly destination featuring tennis courts, baseball fields, a community center, and walking paths.
For those who want to spend the day basking in the gorgeous weather experienced in the Pacific Northwest, Union Bay Natural Area borders Laurelhurst. Owned and managed by the University of Washington Botanic Gardens, anyone is invited to explore this public wildlife area. Spanning 74 acres and including four miles of shoreline along the Bay, this is a must-visit for anyone in the community.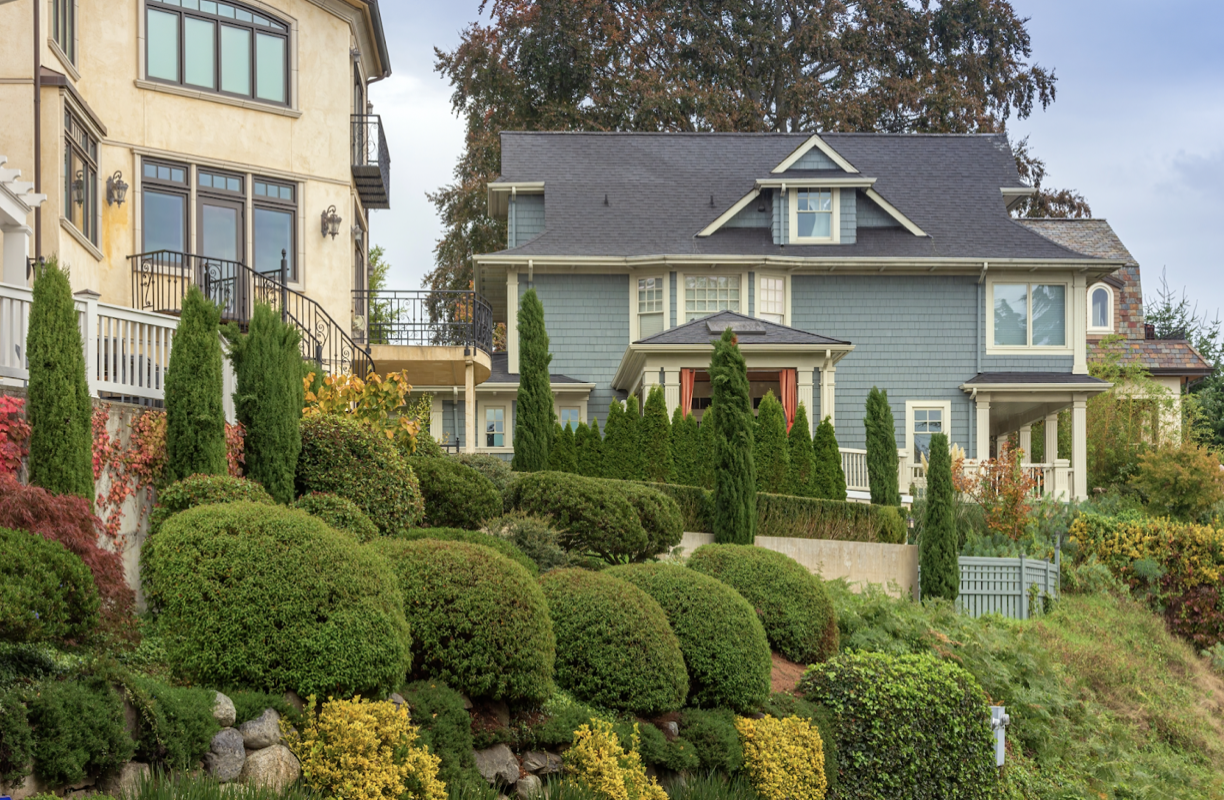 Known as one of the most affluent and wealthiest neighborhoods in Seattle, Madison Park is a posh, highly-desirable place to live. Situated along Lake Washington, directly south of the Evergreen Point Floating Bridge, this community is in a prime location. It shares a border with the exclusive gated community Broadmoor and encompasses the spacious and breathtaking grounds of the Washington Park Arboretum.
Residents of this wealthy Seattle neighborhood have ample activities to enjoy in their free time without ever leaving the area. When the weather is warm, Madison Park Beach is a family-friendly hotspot. Here, visitors can enjoy swimming areas, diving boards, children's play areas, and space for sunbathing. Steps away, Madison Park boasts tennis courts, a playground, and a bathhouse. Other top places to visit include Foster Point Trail, E Highland Dr Shoreline Street End, the Nellie Cornish Memorial Fountains, the Seattle Japanese Garden, and the Madison Park Dock.
#8 Madrona
— $120,396 median income
Serene, secluded, and lined with striking homes exceeding $1 million, Madrona is one of the richest areas in Seattle. Boasting its own selection of restaurants, shops, and parks, this community has an all-encompassing feel that makes it even more valuable to area locals.
What are some of the most noteworthy highlights of living in Seattle's Madrona neighborhood? Residents who want to stay active or who have children appreciate living steps away from Madrona Park. This idyllic community park includes jogging paths, lakefront access for swimming, and more. Along 34th Avenue, you'll find an array of boutiques, restaurants, and the Madrona Playground.
Named after the 300-acre park that the neighborhood surrounds, Seward Park is one of the rich neighborhoods in Seattle that boasts many kid-friendly and family-friendly amenities. 
Obviously, the most notable is Seward Park. With its entrance located at South Juneau Street, a single road loops through a portion of the park. The remaining space is dedicated to scenic nature trails, including the Huckleberry Trail, the Fairy Tree Loop Trail, and the Windfall Trail. Visitors will discover other excellent features within the park, including the Seward Park Amphitheater, tennis courts, beachfront, Audubon center, play areas, and more.
Outside of the park, locals enjoy being minutes away from some of the area's best restaurants. Close to the neighborhood, Rainier Avenue South features acclaimed restaurants such as Delish Ethiopian Cuisine, The Flour Box, and Archipelago.
Scenic, bright, and quaint, Hawthorne Hills is a delightful and wealthy Seattle suburban neighborhood. Composed primarily of single-family homes, the average sale price for homes in this neighborhood is just over $1.4 million. Hawthorne Hills is bordered by several other top-rated Seattle neighborhoods, including View Ridge, Windermere, and Laurelhurst. This neighborhood is relatively close to Interstate 5 and the University of Washington, making it one of the more conveniently located rich neighborhoods in Seattle.
Map of Richest Neighborhoods in Seattle
Planning on relocating to one of the wealthiest neighborhoods in Seattle sometime in the near future? For the past 18+ years, we've proudly served as the area's top-rated local and long distance moving company. Performing almost 10,000 moves over our time in business, our dedication to providing amazing customer service has resulted in a 98% satisfaction rating. Contact the best movers in Seattle at 360-507-2447 to learn more about our professional and trustworthy relocation services!