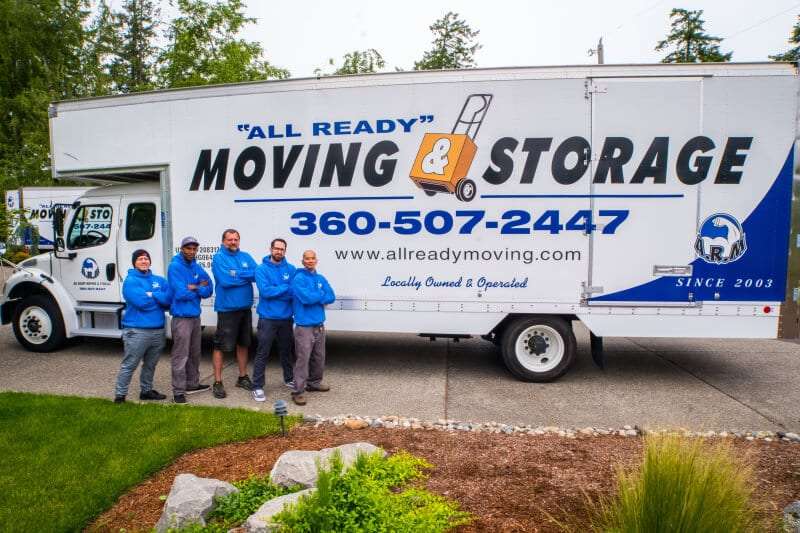 Relocating to or Within Seattle with All Ready Moving
The beautiful city of Seattle, the largest city in the Puget Sound region, is famous for its tech industry, outdoor lifestyle, coffee culture, and famous attractions like the Space Needle. Living in Seattle WA delivers a great quality of life with magnificent scenery and job opportunities.
The Emerald City is also one of the country's most transient large cities: in one recent year, 23% of the Seattle population had moved within the past 12 months! The vast majority of these relocations were local moves within the same county. That means you're definitely not alone if you're thinking about making a move.
Maybe you're relocating within the city or Puget Sound area, moving a business, or preparing for a long distance move outside the state. No matter where life is taking you next, the professional Seattle movers at All Ready Moving & Storage are ready to deliver the dependable services you need to make the moving process a breeze. Our full service moving teams are committed to delivering exceptional service, competitive pricing, and a stress free experience.
Reasons for Relocating in the Seattle Area
Moving may be challenging, but it's also an exciting experience and the start of a new chapter of your life!
Are you relocating within Seattle WA? Maybe you're buying a house, changing neighborhoods for a shorter commute or better amenities, or household changes mean you're ready for a larger or smaller home.
Maybe you're staying in the Seattle area but leaving the city. There was a spike in people moving from Seattle in 2020, but about 70% of moves from Seattle stayed in Washington state. Popular destinations include Seattle suburbs like Shoreline, Bellevue, Kirkland, Bothell, Lynnwood, and Tacoma. Many of these relocations were due to employment, cost of living, or more affordable housing.
Are you planning an interstate or long distance move? You may be moving for employment, to be closer to family, for a lower cost of living, or just a change of scenery. The top destination for people leaving Seattle was Arizona, including Phoenix, Tucson, and Scottsdale.
Whether you're moving near or far, All Ready Moving & Storage is ready to help with tailored services at a reasonable price. Our professional movers in Seattle offer long distance and local moving services with full service support to have you settled in your new home without the worry.
Benefits of Hiring Professional Movers in Seattle
If you have relocated before, you already know how overwhelming a move can be. If it's your first time moving, don't underestimate just how much time, work, and worry is involved in a move!
Moving consistently ranks as the most stressful life event, even higher than divorce, getting married, and becoming a parent. That's why in a nationwide survey, 94% of people used professional movers for their last move said were absolutely worth the cost. Meanwhile, 43% of people who moved themselves said it was a mistake.
That's where an experienced Seattle moving company comes in. Movers take over all the hard work to make sure your move is completed safely, efficiently, and on time. Here's how an experienced Seattle moving team can help you.
Our Seattle Moving Services
Whether you want full service movers in Seattle who can handle everything or you just need labor only services to pack, load, and unload your truck, All Ready Moving is ready to help. Learn about our services below and what we can do to make the moving experience positive and worry free.
Our local moving services have you settled into your new home in no time! From packing up the whole house and labor only moves to moving between apartments, our Seattle movers have you covered. We have years of experience performing all types of local moves, including apartment, senior, and household relocations. Our local moving experts can safely pack and prep your furniture and other belongings, securely transport them, unload, and set up everything for a seamless move-in experience.
Leaving the Puget Sound area? All Ready Moving & Storage is your trusted partner for a stress free long distance move! As a National Van Lines agent, we're equipped for long distance relocations, including cross country and international moves, with a fleet of dedicated trucks and large network.
Seattle Office Moving Services
Moving a business or office? Count on our team for seamless commercial moves and customized services that minimize downtime and lost productivity. We handle office and commercial moves large and small with packing, loading, unloading, and furniture assembly handled by movers with years of experience.
Before you rent a storage unit, talk to us about our affordable storage services! All Ready Moving & Storage offers secure storage at our climate controlled, 30,000 SQ FT warehouse. Using a moving and storage company is more convenient than a self storage unit – no moving twice, belongings delivered to you when you're ready for them, and you don't even need to pack everything up! We offer affordable rates on short term storage and long term storage to make navigating the logistics of your move as easy as possible.
Packing is the most time-consuming and stressful aspect of moving. Let our Seattle movers take over with professional packing services! We bring all the packing supplies needed with full or partial packing and unpacking customized to your needs. We use the right supplies for large items, delicate items, fine art, dishware, heirlooms, and more to ensure all your belongings make it to your new house intact. Whether you need your entire house packed, just the furniture prepped, or packing service for only certain items or rooms, we're ready to save you countless hours.
How to Choose the Best Seattle Moving Company
Hiring a moving company in Seattle is a big decision; don't make the mistake of focusing on cost alone. Research the company thoroughly to make sure they're dependable, trustworthy, and professional. Here's what we recommend looking for.
Licensed and insured moving company. A company performing household moving services is required to have a permit from the Washington Utilities and Transportation Commission (UTC). The UTC ensures they charge fair rates, have adequate insurance, and safely maintain their vehicles. Interstate movers are regulated by the Federal Motor Carrier Safety Administration (FMCSA) and should have a US DOT number.
Experience in the moving industry. A professional moving company in Seattle WA should have years of experience performing relocation services. Ask how many moves they perform each year and their experience with relocations like yours.
Background checked, experienced movers. A dependable company uses only background checked Seattle movers who are trained and experienced for your protection.
Positive reviews. Check moving company reviews and make sure past customers had a positive experience.
Services you need. Not every company offers the same services. Choose a Seattle moving company able to meet your needs when it comes to packing, local moving, interstate moves, office relocations, or whatever else you need.
All Ready Moving – the Best Mover in Puget Sound!
All Ready Moving & Storage has earned a reputation as a leading Seattle moving company. We have more than 18 years of moving industry experience and a 98% customer satisfaction rate based on more than 9,000 successful relocations. We have 22 dedicated team members who are 100% background checked and experienced. All Ready Moving is committed to serving our customers with the best moving experience thanks to our extremely efficient movers who arrive on time and perform an excellent job with care and attention to detail. Get in touch with our Seattle movers today for a free, personalized moving estimate!
How Much Does it Cost to Hire Movers in Seattle?
We understand that while cost should not be your only concern when hiring movers, it's definitely important! Seattle moving companies charge rates differently depending on whether it's local hourly moving or long distance moving. In general, you can expect hourly moving to have a rate per hour based on the number of movers. The standard rate for local movers usually includes a team of two, but you can add additional movers for a higher hourly rate. You will usually pay a flat rate cost for an interstate or long distance mover.
All Ready Moving performs local moves within 56 miles with a one-hour minimum Monday to Friday and a four-hour minimum on Saturday and Sunday. Beyond 56 miles, moves are long distance and charged by weight based on a WA regulated scale.
Factors that affect the cost of your moving service include:
Total distance to your new house
Number of movers you need
Services requested such as packing, storage, or labor only
Volume of belongings
Type of belongings as delicate items and heavy or large items can take longer and/or require more movers
Moving dates
The best way to find out your cost is to schedule a free assessment from a mover. This virtual or in-person assessment will consider your home, items you are moving, and other factors to give you an accurate estimate.
All Ready Moving is ready to meet your moving needs with affordable, transparent rates. Give us a call to request a free quote from a great team who will arrive at the expected time with the experience, equipment, and packing supplies necessary.
Common Questions People Ask Movers in Seattle WA
Do you have questions about moving services or what a Seattle mover can do for you? Here are common questions people ask moving companies!
What's the difference between long distance and local moving?
Local moving service is performed with an hourly moving rate within a specific radius. Long distance moves are outside that radius or cross state lines. At All Ready Moving, our local movers charge hourly for moves within 56 miles.
How much should you tip movers in Seattle?
Tipping is not required, but it's always appreciated if a mover has done the job well and you are impressed. A typical mover tip is 5-10% of the total moving cost or $5 per mover per hour.
Do moving companies assemble furniture?
Absolutely! Seattle WA movers can disassemble, prep, and assemble furniture in your new house.
Can Seattle movers do all the packing?
Professional packing is an option with labor only or full service movers in Seattle. Movers can pack your entire house, specific rooms, or certain items and even do the unpacking.
Tips for Moving in Seattle
In the days prior to your move, these tips can ensure the process is as efficient and worry-free as possible!
Know how to break a lease in Washington if necessary to reduce or avoid financial consequences.
Donate furniture and items you don't need about one month before your move. This gives you time to schedule pickup of large items if needed.
Make sure your set up or transfer utilities about 1-2 weeks before move-in to make sure at least water and electricity is on the day before you move in.
Keep a moving binder to keep track of estimates, contracts, to-do lists, school records, vet records, and other important information.
Download our free Ultimate Moving Checklist!
Get a Free Quote from the Best Seattle Movers at All Ready Moving
Ready to get started with dependable service and movers you can trust? All Ready Moving has been moving homes and moving items throughout Puget Sound for more than 18 years and we look forward to adding you to our list of satisfied customers! Call us today at 360-507-2447 for a free moving quote in Seattle to get started.