Tacoma and Seattle are two of the largest and most beautiful cities on Washington's Puget Sound. Whether you're interested in a tech job, looking for a great community with strong arts and culture, or you're looking for a safe city to raise kids, both have so much to offer including the sights along the sound and stunning evergreen forests. To help you choose which city will be best for your family, we've created a Tacoma versus Seattle guide with a look at commutes, cost of living, major attractions, and more.
Pros & Cons of Living in Tacoma vs. Seattle
Need help deciding whether to live in Tacoma or Seattle? Here's a list of the biggest Tacoma vs. Seattle advantages and disadvantages to consider to make your choice a little easier.
Living in Tacoma Pros
Tacoma Is Great for Catching Live Music
Tacoma may be Seattle's smaller sister, but the city has tons of cultural attractions with sports, concerts, and theater at your fingertips. One of the perks of living in Tacoma is you'll always find something fun to do without driving to the city.
Tacoma Arts Live features three theaters and it's home to the Tacoma City Ballet, Tacoma Philharmonic, Tacoma Symphony Orchestra, and Puget Sound Revels. The famous Tacoma Dome, the world's largest arena with a wooden dome, hosts everything from major concerts and music festivals to wrestling matches, basketball games, expos, and political rallies. You'll also find other fun venues to explore while living in Tacoma like small lounges, concert halls, and piano bars.
Tacoma's Beautiful Outdoors
One of the best benefits of living in Tacoma? Enjoying the city's gorgeous outdoor space. The jewel of Tacoma is Point Defiance Park, most comparable to NYC's Central Park in size and amenities. Point Defiance Park boasts 760 acres of trails, manicured gardens, forests, playgrounds, and waterfront activities like boating and swimming. It's also home to the Point Defiance Zoo and Aquarium. Explore old-growth forests, a saltwater beach, a Japanese garden, and a picnic area with covered barbecues.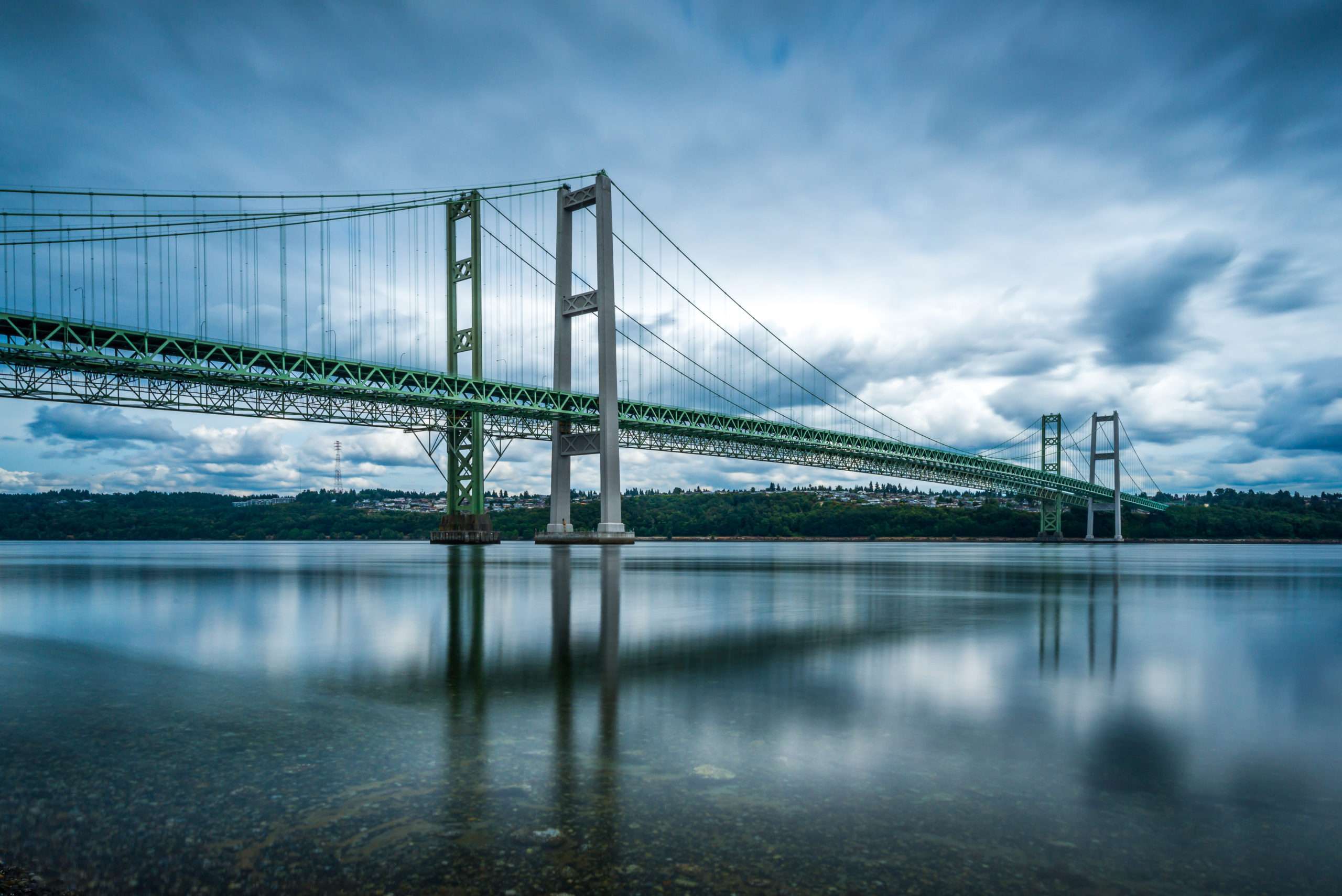 Tacoma also offers 46 miles of waterfront space. Along with Point Defiance Park, you can spend afternoons along Ruston Way Waterfront just minutes from the Museum District and take in stunning views of Commencement Bay. Locals love to enjoy yoga, paddleboarding, biking, and jogging along the shore, rain or shine.
Tacoma's Walkable Museum Row
Tacoma has plenty to offer young families, professionals, singles, and artists with a vibrant downtown area. One of the city's best cultural attractions is its Museum Row. Explore several major museums within walking distance of each other like:
LeMay America's Car Museum, North America's largest.
Children's Museum of Tacoma with an award-winning Pay As You Will admission approach that opens access to the museum to all families.
Washington State History Museum
Tacoma Art Museum
Museum of Glass. Tacoma is known for its blown glass with beautiful artwork by master artist Dale Chihuly everywhere you look downtown. At the Museum of Glass, walk across the Chihuly Bridge of Glass and try making your own blown glass.
Foss Waterway Seaport
Living in Tacoma Cons
Tacoma's Education System Isn't As Good as Seattle's
If you're moving with kids or considering starting a family, the quality of the public and charter schools probably takes priority. One of the downsides of living in Tacoma is it doesn't have quite the same quality of education that Seattle offers.
When you compare Tacoma versus Seattle, you'll find Tacoma has more students per teacher and a lower high school graduation rate. While 28% of students go on to get a 4-year college degree in Tacoma, 62% achieve the same in Seattle.
Living in Seattle Pros
Seattle's Booming Tech Market
Looking for a rewarding and high-paying job in the tech field? Seattle is definitely the place to be. One of the perks of living in Seattle is it's one of the country's top cities for tech with the headquarters for Amazon, Microsoft, T-Mobile, and more. The Seattle job market is concentrated in finance, business, mathematics, computers, engineering, and architecture with the fastest rate of growth in STEM jobs among all major metro areas.
With that said, many people live in Tacoma and commute to Seattle. While that can be a challenging and long commute, for many it pays off thanks to Tacoma's more affordable housing and Seattle's high average salary.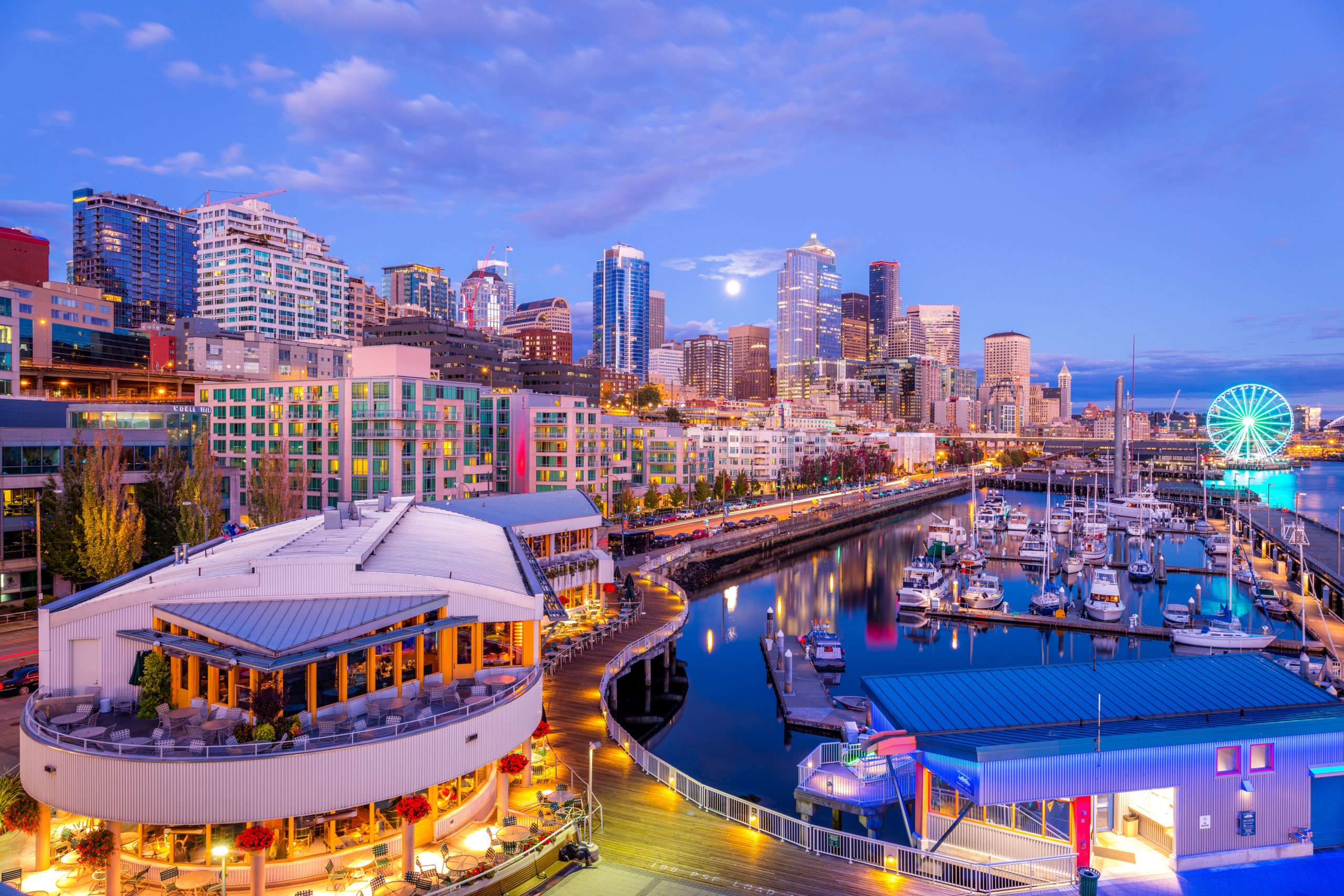 Seattle Has a Thriving Arts & Culture Scene
One of the benefits of living in Seattle is there's always something to see and do. Seattle may be known for its legendary music scene and the birthplace of Soundgarden, Nirvana, and Jimi Hendrix, but it also features the Pacific Northwest Ballet, the Seattle Opera, and the Seattle Symphony with historic music venues like Moore Theatre to explore. Want to take in some art and enjoy a nice afternoon on the town? Stop by the Seattle Art Museum or the Museum of Pop Culture, or MoPOP, with fun exhibits exploring tattoo culture, Minecraft, and Nirvana.
Living in Seattle Cons
Seattle's Expensive Housing Market
Thinking about buying a home? One of the biggest drawbacks of living in Seattle is the high housing costs. The average home in Seattle is $758,000, nearly three times what you pay in Tacoma just 30 minutes away. You'll pay about $510 per square foot to buy a home in Seattle and it's predicted that home prices are expected to start rising again after hitting a record $820k in 2018. Seattle recently experienced the fastest growing home prices in the country thanks to a lack of available housing and strong job growth.
Of course, the strength of the Seattle real estate market and high-paying jobs are pushing more people to move to Tacoma which is also pushing up prices there. Still, your money will get you a lot more in Tacoma. When you compare Tacoma vs. Seattle, keep in mind you can get new construction with a yard, better features, and more square footage in Tacoma.
Seattle's Homeless Crisis
Living in Seattle, you'll see that there are really two Seattles: the bright, new skyscrapers and another city of cardboard and tents. Seattle is facing a growing population of homeless people. Of the 3,700 homeless people in King County, 2,800 are in Seattle, a population up 20% between 2019 and 2020.
Along with this humanitarian issue has come an explosion of crime and addiction which can be a safety issue for people living in the area — a major con of living in Seattle. Needles are routinely found almost everywhere in the city, including parks, storm drains, and sidewalks. Within 15 months ending in fall 2017, over 32,000 hypodermic syringes were collected throughout the city.
Cost of Living in Tacoma vs. Seattle
Cost of living is a major concern whenever you're thinking about relocating to a new area. How much will your money buy you in Tacoma versus Seattle? Will you be able to afford to buy a home or live close to the city? What do commuting costs look like? The cost of living in Tacoma is substantially lower than Seattle for living costs. You need about $6,020 in Seattle to get the same standard of living you can enjoy for $4,500 in Tacoma. Seattle is about 26% higher than the Washington state average cost of living and Tacoma is just under.
According to Numbeo, here's how the cost of living breaks down:
Consumer prices are 21% lower in Tacoma versus Seattle
Rent is 58% higher in Seattle vs. Tacoma
Restaurant prices are 18% lower in Tacoma versus Seattle
Groceries are 35% higher in Seattle than Tacoma
Curious about how much you'll pay to use public transit to get to work? A monthly pass in Tacoma is $72 compared to $99 in Seattle.
Of course, the lower cost of living in Tacoma is offset by a lower median monthly salary. On average, Seattle residents earn $5,323 per month compared to $3,353 for Tacoma residents.
One of the most important ways to compare and contrast the cost of living in Seattle and Tacoma is by looking at housing costs which are likely the biggest expenses you'll face. Average rent in Tacoma is $1,410, according to RentJungle, compared to the average Seattle rent of $1,955. Don't forget to consider home prices, too, if you plan on buying a home. The median property value in Tacoma is $227,000, almost precisely the national average. Seattle, meanwhile, is almost three times higher at $758,000!
If you are thinking of buying or selling in the Tacoma area we highly recommend contacting Better Properties Real Estate.
Additional Things to Consider Between Tacoma Versus Seattle
Population
Do you prefer the excitement of big city life or would you prefer a mid-sized city with everything closer? The population of Tacoma is 207,000 compared with Seattle's population of 745,000. Tacoma is still part of the Seattle metro area which, along with Bellevue, has a combined population of 3.8 million.
Despite having a smaller population, one of the pluses of living in Tacoma is it offers greater diversity with a racial and ethnic composition that's 60% white, 12% Hispanic, 10% black, 9% Asian, 1% Pacific Islander, and 1% American Indian.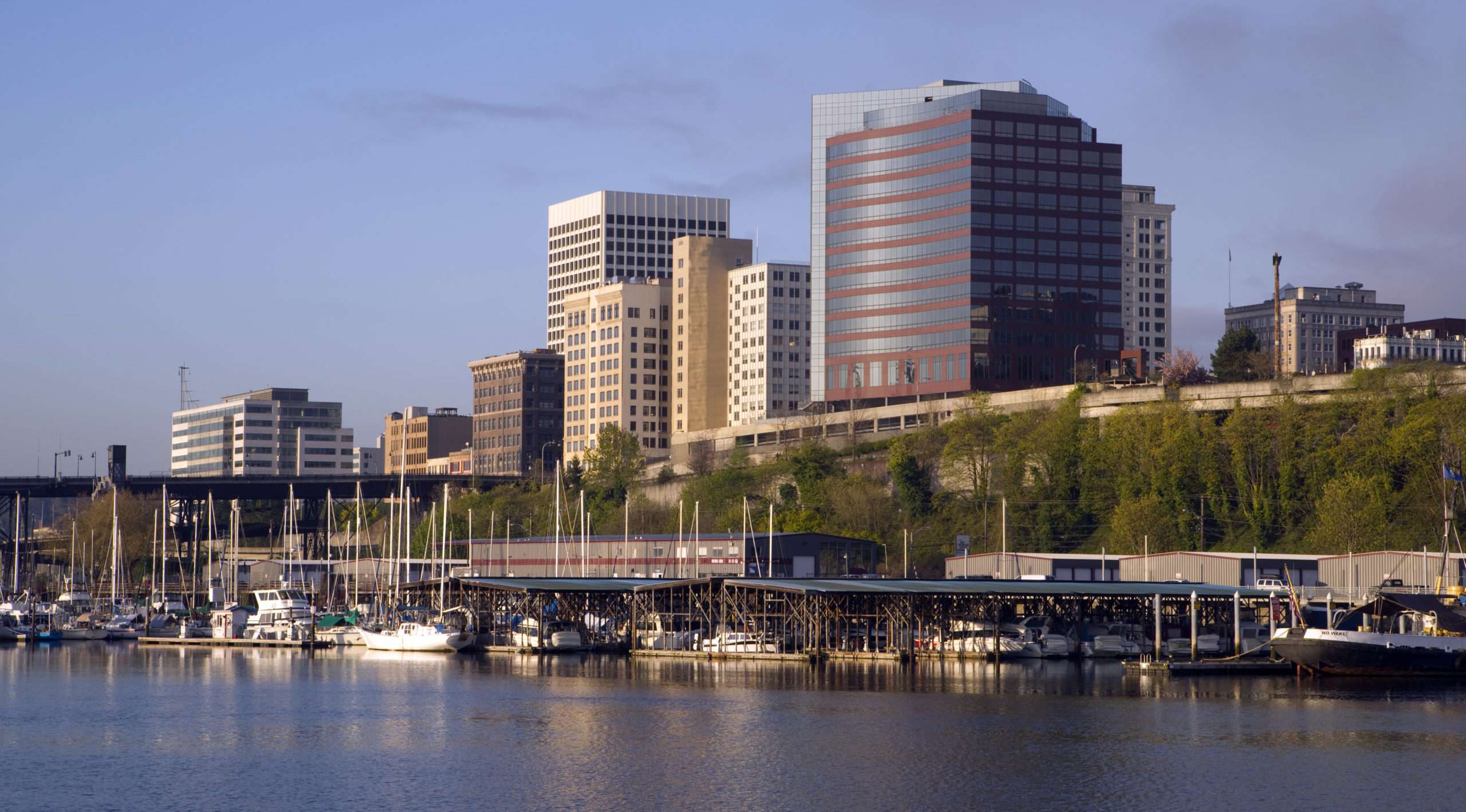 Crime Rate in Tacoma vs. Seattle
While Tacoma and Seattle aren't ranked as the safest big cities in the U.S., one of the benefits of living in Tacoma is it's rated as a safer city than Seattle according to a study comparing not only violent and property crime rates but also the risk of natural disaster, financial risk, forgoing health insurance, and cybercrime. Seattle was ranked the 2nd best city for financial safety, though.
Tacoma vs. Seattle Climate
The entire Pacific Northwest is famous for its rainfall and overcast days, and both Seattle and Tacoma are no different. The cities are only 35 miles apart on the Puget Sound with very similar weather. Both cities receive 4-5″ of snow each year, well below the national average of 28 inches, but up to 41 inches of rainfall. Seattle gets a few more sunny days a year: 152 days compared to 141 days in Tacoma, WA.
Average Commute in Tacoma versus Seattle
Long and stressful commutes are one of many reasons people choose to move, so it makes sense to consider what type of commute you'll look forward to when relocating to Tacoma or Seattle. Unfortunately, both cities are among the top 10 in the nation for stressful commutes. One of the perks of living in Tacoma compared to Seattle, however, is a somewhat better commute.
A drawback of living in Seattle is it was recently ranked second in the country for long commutes. A study found that Seattle residents spend a whopping 138 hours per year in traffic which costs the average driver $1,932. On average, it takes commuters 28 minutes to get to work in Seattle thanks to congestion on I-5 and downtown ramps. The only reason Seattle didn't beat Los Angeles for worst commutes in the country? Somewhat lower gas prices. Tacoma, by comparison, ranked 10th.
Tacoma to Seattle Distance
No matter which city you choose, you never have to give up the amenities and excitement of the other. How far is it from Tacoma to Seattle? Just 35 miles along I-5 and past the SeaTac airport which takes about 40 minutes. Here's how to get from Tacoma to Seattle for big-city excitement or your commute.
Tacoma vs. Seattle: Which Is Right for You?
Both Seattle and Tacoma have so much to offer. These cities on the Puget Sound have exciting cultural destinations and aren't too far apart. Tacoma offers more affordable living, great live music, and the outdoors while Seattle boasts a strong tech economy and cultural scene. As you compare Tacoma versus Seattle, which city is calling to you?
Whether you're moving to Seattle or Tacoma, All Ready Moving is here to help make the experience easier than you ever dreamed!