Looking for a peaceful city on the Puget Sound? You may consider moving to Shelton, WA. Shelton is a great city with a vibrant local culture that offers easy access to Washington State's most popular cities. Nicknamed the "Christmas Tree Capitol," Shelton was incorporated in the 1890s and became famous for its logging and lumber industry. With a low cost of living, a diverse population, and beautiful natural scenery, living in Shelton offers significant advantages for residents of all different backgrounds.
Where is Shelton?
Shelton is in Mason County, Washington, and is the westernmost city on the Puget Sound, situated on the banks of Oakland Bay. It's also surrounded by natural beauty and is located between Capitol State Forest and Olympia State Park. Although relatively secluded in Northwest Washington, many of the state's most popular cities are nearby. Shelton is 22 miles from Olympia, 52 miles from Tacoma, and 82 miles from Seattle.
Shelton is served by the Mason Transit Authority, which features buses that stop at Squaxin Reservation, Union, Skokomish Reservation, Hoodsport, Lilliwaup, Grapeview, Allyn, and Belfair within Mason County, WA.
Shelton Population & Demographics
The population of Shelton is 10,371 according to the 2020 census, which is a 5.4% increase since 2010. Over the past five years, the city has seen one of the fastest consistent growth rates in Washington State, with many residents moving to Shelton in search of affordable living. Shelton is the largest city in Mason County and the 124th largest in Washington State.
Shelton has also been home to several Olympic medalists and professional athletes, including the figure skater Karol Kennedy, track and field star Des Koch and NFL players Raul Allegre, Justin Ena, and Caleb Schlauderaff.
Other Shelton, WA Demographics 
The Shelton, WA population is evenly split by gender, 50% male and 50% female
It's a relatively young city, and the median age is 31.8
The racial makeup is 72.4% white, 25.5% Hispanic, 1.9% American Indian, 0.8% Asian, 0.4% black, and 7.9% mixed race.
The median household income is $48,000, which is about 25% lower than the state's overall
While 81.3% of residents have a high school diploma, only 13.9% have a bachelor's degree or higher
The foreign-born population is 15.8%
The crime rate in Shelton is fairly high for a small town, which may be a concern for some residents. The total crime rate is 5,266 per 100,000 residents, 74% higher than the state and 124.5% higher than the country overall. The violent crime rate is 456 per 100,00 residents, which is 55.3% higher than the statewide average. The property crime rate is 4,810 per 100,000 residents, which is 76% higher than the state. However, if you're aware of your surroundings when living in Shelton, you'll be able to better mitigate any risk of crime.
The city is patrolled by the Shelton Police Department, which employs 22 people, including 19 officers and three civilians, which is two officers per 1,000 residents.
Cost of Living in Shelton
One of the major benefits of moving to Shelton is the cost of living. The cost of living index is a common metric used to gauge the affordability of an area compared to the national average, which is represented by 100. The cost of living index for the Olympia-Lacey-Tumwater metro area is 110, which means it's about 10% more expensive than the national average. However, the Shelto COLI is closer to 97, which is about 3% cheaper than the US overall.
According to the Economic Policy Institute's Family Budget Calculator, a family of four, including two adults and two children, would need an income of $77,375 to afford to live in Mason County. This tool considers common expenses such as housing, food, childcare, transportation, healthcare, taxes, and other necessities.
Typical Shelton, Washington Living Expenses 
Inexpensive Restaurant: $25
Cappuccino: $4.82
Bottle of Coke: $2.75
1 Gallon of Milk: $3.75
Loaf of Bread: $2.64
12 Eggs: $4.33
1 pound of Chicken: $2.33
1 pound of Beef: $5.37
1 pound of Apples: $1.84
1 pound of White Rice: $1.67
Average Westfield Utilities Per Month: $346
*Data reflects the general Olympia area but will be similar in Shelton. Source: Numbeo 
The Shelton real estate market is also very affordable compared to the national average. According to Redfin, the Shelton median home price is $340,000, which is down by 1.4% year over year. That's nearly half of the median list price of Washington state, which is $624,900.
The average price per square foot of Shelton WA homes for sale is $243, which is down by 2.8%.Shelton has plenty to offer renters as well, and about 52% of Shelton residents are tenants. According to Rentcafe, the average rent in Shelton, WA ranges from approximately $1100 for a studio to about $1900 for a three-bedroom apartment.
Shelton Neighborhoods | Where to Live in Shelton
Before planning your relocation, you'll likely want to know where to live in Shelton. Although you'll find great real estate anywhere you look, the central parts of the city tend to be the most desirable, while the most affordable homes are in the southwest. Here are some of the neighborhoods to consider if you're moving to Shelton.
Graham Point – A Cape on the Puget Sound
Graham Point is a peaceful cape on Harstine Island, located on Puget Sound in the eastern section of Shelton. The waterfront neighborhood is a bit more expensive than many areas in Shelton. However, it offers great views and less crime.
Arcadia – A Rural Escape on Oakland Bay
Arcadia is a neighborhood in south Shelton located on the banks of Oakland Bay. Residents enjoy scenic views of the Puget Sound, a rural atmosphere, and affordable home prices, which start at about $250,000.
Forbes – Paradise in Kamilche 
Just south of Arcadia is the Forbes neighborhood, which is within the unincorporated community of Kamilche, the home of the Squaxin Indian Tribe, which operates the Little Creek Casino and Resort nearby.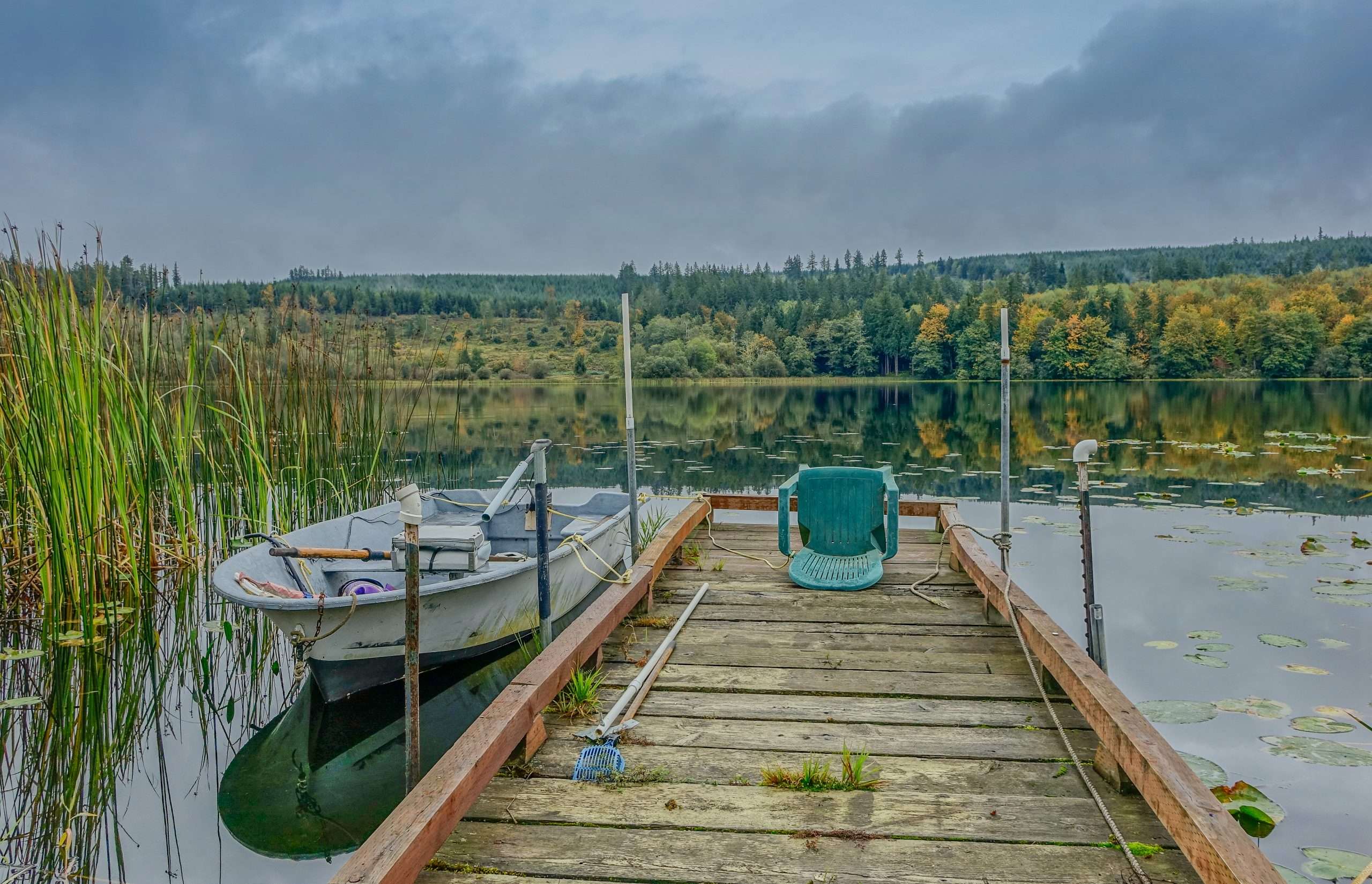 Shelton Weather & Climate
According to the Koppen climate classification, the Shelton, WA climate is warm summer Mediterranean, which is characterized by warm, dry summers and cold, wet winters. So, the best time to visit Shelton if you're planning on participating in warm weather activities is mid-July to late August. The temperature in Shelton typically ranges from 34°F to 79°F throughout the year. However, the Shelton winter low can get down to 24°F, and the summer high can get up to 91°F.
Like many cities in the Pacific Northwest, Shelton gets plenty of rain. The Shelton, WA, annual rainfall is about 62 inches per year, which is quite high compared to the US average of 38 inches. Although the temperature rarely goes below 32°F, Shelton does average about 4 inches of snow per year. So definitely bring an umbrella and maybe keep a pair of snow boots in the closet if you plan on moving to Shelton.
Things to Do in Shelton
With an abundance of natural beauty and plenty of open land, there are always countless fun things to do in Shelton, WA. Most of the shopping is in downtown Shelton, around South 1st Street and West Railroad Ave. Shelton Outfitters is a popular clothing store with great prices on brand-name apparel. Plus, Olympia is just a quick drive, and residents can find even more shopping at the Capital Mall or Capitol Village Shopping Center. Beyond shopping, here are a few of the top attractions in Shelton.
Jarrell Cove is a state park on Harstine Island in the Puget Sound. With 67 acres of forest and 3,500 feet of shoreline, the park is ideal for camping, hiking, boating, scuba diving, birdwatching, fishing, crabbing, and other outdoor activities.
Jarrell Cove State Park, 391 E Wingert Rd, Shelton, WA 98584 (360) 426-9226
Little Creek is a casino resort in southern Shelton, complete with hotels, restaurants, and entertainment options like a golf course, spa, and more. It's one of the best things to do in Shelton if you're visiting for the weekend or just want to relax.
Little Creek Casino Resort, 91 WA-108, Shelton, WA 98584 (360) 427-7711
View this post on Instagram
The Ridge is a Motorsports Park, a professional racing circuit, and the largest event venue in Mason County that hosts professional motorsports races as well as concerts, festivals, car shows, athletic competitions, and so much more.
Ridge Motorsports Park, 1060 W Eells Hill Rd, Shelton, WA 98584 (360) 427-7223
Additional Attractions in Shelton
The Shelton Parks and Recreation Department also manages the public spaces in Shelton and hosts community events like baseball leagues and rec programs.
Shelton Restaurants
Shelton, WA, restaurants offer something for everyone, whether you're looking for barbecue or Mexican food.
Smoking Mo's is one of the best restaurants in Shelton, WA for those who appreciate good barbecue with mouthwatering menu items like a chopped beef brisket sandwich or andouille sausage platter. 
Smoking Mo's, 233 S 1st St, Shelton, WA 98584 (360) 462-0163
Susan's grill is a classic American diner serving traditional favorites like omelets, burgers, and salads. It's one of the best restaurants in Shelton if you're looking for a no-frills spot with large portions.
Susan's Grill, 1927 Olympic Hwy N, Shelton, WA 98584 (360) 432-8939
El Guadalajara's Mexican Restaurant 
El Guadalajara's is one of the top Mexican restaurants in Shelton, with classic dishes like fajitas and chimichangas and a wide selection of Mexican beer.
El Guadalajara's Mexican Restaurant, 831 S 1st St, Shelton, WA 98584 (360) 426-1181
Jobs in Shelton, WA
If you're considering living in Shelton, you'll likely want to know about the job prospects. The unemployment rate in Shelton is 7.7%, slightly higher than the national average, but the job market has increased by 1.1% over the past year. Logging and milling are the foundation of the Shelton economy, but other significant industries include retail, health care, and construction.
The top employers in Mason County include:
Little Creek Casino Hotel
Shelton School District
Mason General Hospital
Washington Corrections Center
Taylor Shellfish INC
Beyond those employers, most Shelton, WA jobs are offered by national chains like McDonald's, Home Depot, and Target. You can also find stable employment opportunities working for the local Shelton government. According to Payscale, the average hourly wage in Shelton is $19.24.
The average wage of common Shelton jobs:
Certified Nurse's Assistant – $14
Cashier – $13
Payroll Clerk – $19
Dental Assistant – $32
Operations Manager – $15
Shelton Schools
The Shelton School District is the largest in Mason County and serves over 4,000 students. Students from certain districts also can attend schools in the North Mason district, which covers towns outside of Shelton.
Olympic College, a two-year public community college, also has a campus in Shelton on Alpine Way. There are also three private schools; the Mason County Christian School, Mt. Olive Lutheran School, and Shelton Valley Christian School.
Residents looking for additional reading material can stop by the Shelton branch of the Timberland Regional Library.
Shelton Statistics & Information
Shelton County: Mason County
Shelton Area: 6.25 sq miles
Shelton Zip Code: 98584
Shelton Area Code: 360
Shelton Elevation: 23 ft
Shelton Time Zone: Pacific Standard Time (EST)
Closest Airport: The nearest airport is the Seattle-Tacoma International Airport (SEA) which is about 72 miles or a 1 hour 11 minute drive
Shelton Map
Explore more things to do, restaurants, and amenities with this map of Shelton!

Ready to make the move to Shelton, WA? Trust Shelter movers to help you make your transition smooth and painless. Fill out the form on our website or contact us directly at 360-507-2447 to request a free quote.