Olympia, Washington is known for being the capital of Washington State and one of America's smallest capitals by population. It's also the economic and cultural hub of South Puget Sound, with historic homes and a scenic, busy waterfront area. Living in Olympia WA delivers all the charm and beauty of life in the Pacific Northwest with a fairly affordable cost of living and Seattle easily within reach.
This historic city was founded after the Treaty of Medicine and Treaty of Olympia in the 1850s forced the Squaxin people to move to a reservation. Established as a town in 1859, Olympia was incorporated as a city by 1882 and has experienced steady growth for the past century, especially since the construction of I-5 through the south side in the 1950s.
Today, it's popular with families, young professionals, and retirees thanks to its close-knit community and small-town feel. Are you thinking about moving to Olympia? Here's why it's a great decision!
Where Is Olympia Washington?
Olympia is the capital of Washington State and located in Thurston County in the South Puget Sound region. The city is on Budd Inlet at the southern part of Puget Sound along the Deschutes River estuary. Olympia is bordered by the cities of Tumwater and Lacey.
Olympia isn't too far from Seattle for a day trip. It's just one hour from 61 miles from Olympia Washington to Seattle.
Olympia Population & Demographics
The population of Olympia is 55,605, according to the 2020 census, with a population density of 3,052 people per mile. The city's population has grown by almost one-fifth since 2010, when the population was just 46,478.
Most of Olympia's population growth in the past decade has been concentrated in downtown Olympia and the neighborhoods along the edges of the city limits, especially on the Westside and far east area. For more than 40 years, Olympia held off high-density population growth with exclusive single-family zoning and very limited multifamily housing. These zoning rules finally ended in 2020.
Olympia is the principal city of the Olympia-Tumwater metro area, contiguous with Thurston County, home to 294,793 people. Olympia is also part of the Seattle-Tacoma combined statistical area, home to 4.98 million people.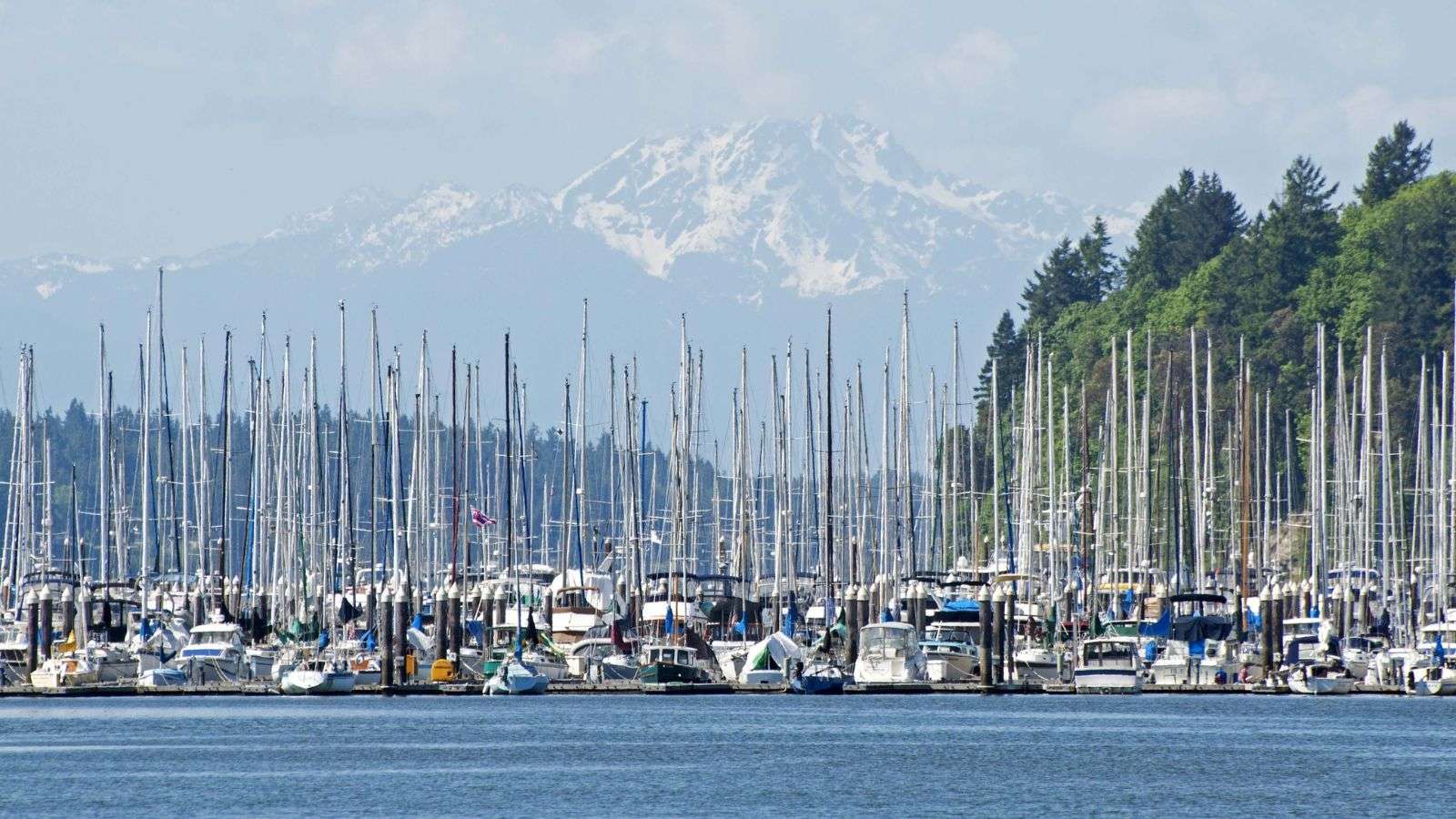 Additional Olympia demographics:
Median age: 38.4 years
Sex ratio: 51 females to 49 males over 18
Median household income: $67,975 (Washington: $82,400)
Homeownership rate: 48% (Washington: 64%)
Educational attainment: 46% bachelor's degree or higher (Washington: 37%)
Foreign-born population: 9.6% (Washington: 14.7%)
Veteran population: 8.6% (Washington: 8.7%)
Is Olympia Washington safe?
The Olympia crime rate is higher than average, with 4,194 crimes per 100,000, including 441 violent crimes per 100,000. However, Olympia is a safe place to live, with crime concentrated in a handful of areas like downtown.
After moving to Olympia Washington, you'll be served by the Olympia Police Department, with 70 sworn officers or 13.1 officers per 10,000 residents. The department has scored above average for the use of deadly force, upheld complaints of misconduct, and over-policing by Police Scorecard, which evaluates law enforcement departments.
Cost of Living in Olympia Washington
The Puget Sound is an expensive place to live, but Olympia is one of the most affordable places to live in the Greater Seattle area. The Olympia cost of living index is 113.8, according to the 2022 C2ER Cost of Living Index. That means the Olympia metro area is 13.8% more expensive than the national average.
Housing, groceries, health care, transportation, and goods and services are all 11% to 22% above the national average, but there's one area where Olympia is affordable: utilities. The Olympia utilities index is just 92.8%, almost 7% below the national average.
When you compare the cost of living in Olympia vs Seattle, you'll find Olympia is very affordable by comparison! The Seattle cost of living index is a whopping 150 – 50% above the national average.
According to Doxo, here are average monthly living expenses in the Olympia area:
Average monthly bills: $2,085
Average mortgage: $1,608
Average rent: $1,236
Auto insurance: $113
Average Olympia utilities: $347
Because housing is your biggest expense while living in Olympia WA, it helps to know what to expect. As a home buyer, be prepared for a competitive real estate market. Homes sell in Olympia in 8 days and receive 3 offers on average. The median home price in Olympia is $525,000, which is down 5.4% year-over-year, with a median sales price of $289/square foot. You can see Olympia, WA homes for sale here to see what your budget can get you.
More than half of Olympia residents rent. The average rent in Olympia WA is $1,660, according to Rentcafe, well below the U.S. average of $2,000. Like most of the country, it's cheaper to rent than buy a home in Olympia.
Best Neighborhoods in Olympia WA
It's not a huge city, but there are dozens of neighborhoods to choose from to enjoy Olympia Washington living at its finest. Much of the city's growth in the last decade has been in the downtown area with its many upscale apartment buildings as well as the eastern and western neighborhoods. Still, you'll find charming Olympia neighborhoods in every area of the city. Here are just some of the best places to live in Olympia WA – check out our guide to the best neighborhoods in Olympia for more!
South Capitol – Popular Neighborhood for Young Professionals
South Capitol is just south of downtown Olympia and perfect for commuters who want to be minutes from work but away from the dense urban landscape. Located on Capitol Lake, this historic district has more than 440 homes, most built between 1900 and 1930. It's the go-to place for Halloween decorations and is known for the small, picturesque Maple Park that transforms into one of the most beautiful places in the city in the fall.
View this post on Instagram
Cain Road – Affluent Olympia Neighborhood with Larger Homes
The Cain Road neighborhood, comprised of more than 800 single-family homes, is one of the most affluent areas of the city. The community boasts an active neighborhood association and nearby parks with mostly 3- to 4-bedroom homes built in the 1950s to 1990s.
Eastside Olympia – Walkable Neighborhoods and Tree-Lined Streets
It's hard to beat the absolute beauty of the Eastside with its narrow, quiet residential streets, mature trees, and hills. This close-knit community is made up of many individual subdivisions and smaller apartment buildings with active neighborhood associations that put together block parties, garage sales, and barbecues. It's also home to several parks like Bigelow Springs Park, leading to natural springs, and Lions Park, with a new water play structure for families.
Olympia Weather & Climate
The warm-summer Mediterranean (Csb) Olympia climate brings dry, short, and warm summers with very cold, wet winters. The weather in Olympia is heavily influenced by the Aleutian Islands of Alaska, where cold, moist air forms and travels to western Washington, bringing cold rain, fog, and clouds.
While living in Olympia Washington, you'll get used to lots of rain. Olympia gets 53" of annual rainfall, well above the U.S. average of 38". Make sure you invest in a quality umbrella and rain jacket! The city gets just 6" of annual snowfall. The average summertime high temperature is 77°F in July, with an average winter low of 34°F in January. There are only 6 days on average during the summer with an average daytime high over 90°F, but 62 average nights per year with below-freezing temperatures.
The best time to visit Olympia is July through September for pleasant, warm weather and the lowest chance of rain and overcast skies.
Fun Things to Do in Olympia WA
One of the best things about living in Olympia is the region's many attractions, from gorgeous parks and family-friendly activities to breweries and performing arts. Here are some of the best things to do in Olympia once you're a local!
Olympia Parks and Rec
Home to the Nisqually River Delta, considered the last unspoiled major estuary in Puget Sound, the refuge has a mile-long boardwalk over the estuary, and it's popular with birdwatchers and nature lovers.
Billy Frank Jr. Nisqually National Wildlife Refuge, 100 Brown Farm Rd NE, Olympia, WA 98516 (360) 753-9467
This popular bayside park offers a playground for families, boardwalk, and easy access to dozens of restaurants in the Historic District. It's one of the top tourist attractions in Olympia and a gathering hub for local events.
Percival Landing Park, 217 Thurston Ave NW, Olympia, WA 98501 (360) 753-8380
View this post on Instagram
Explore more than 310 acres of streams, cliffs, and ravines with an extensive trail system and boardwalks. The park has a rose garden, playground, game courts, and picturesque saltwater shorelines!
Squaxin Park, 2600 East Bay Drive Northeast, Olympia, WA 98506 (360) 753-8380
The historic Chehalis Western Railroad, which operated from 1926 through the mid-1980s, has now then become the Chehalis Western Trail. The trail runs north-south through the heart of Thurston County and Olympia, then links up with the County-owned 14.5-mile Yelm-Tenino Trail.
It passes through a variety of ecosystems and environments in both the urban and rural areas of the county and provides access to over 170 acres of parkland, including nearly two miles of frontage along the Deschutes River.
Olympia Attractions
Located in the Olympic Regional Airport, the museum's collection of everything from WWII trainers to jet interceptors is meticulously maintained and flown on a seasonal basis. They also host the annual Olympic Air Show!
Olympic Flight Museum, 7637 Old Hwy 99 SE, Tumwater, WA 98501 (360) 705-3925
One of the best things to do in Olympia Washington, with kids, the museum boasts 28,000 square feet of exhibits with eight themed galleries and 150+ hands-on STEM exhibits.
Hands On Children's Museum, 414 Jefferson St NE, Olympia, WA 98501 (360) 956-0818
Next to the Hands On Children's Museum is another fun destination for families. This science museum offers hands-on exhibits focused on the water cycle and the importance of clean water.
WET Science Center, 500 Adams St NE, Olympia, WA 98501 (360) 664-2333
This indoor-outdoor mall is the top shopping destination for the South Puget Sound area, with a 14-screen theater and over 100 shops.
Capital Mall, 625 Black Lake Blvd SW, Olympia, WA 98502 (360) 754-8027
Near the top of the list of what to do in Olympia as a new resident? The bustling farmer's market! Visit from April through October for artisanal goods, live plants, craft goods, wine, fresh seafood and meat, dairy, and locally grown fruits and vegetables. There's daily live music plus eight on-site restaurants!
The Olympia Farmers Market, 700 Capitol Way N, Olympia, WA 98501 (360) 352-9096
View this post on Instagram
This family-owned farm is one of many fun things to do in Olympia with the whole family. Pick up award-winning apple cider, apple butter, fritters, jams, cookies and more, and spend a few minutes visiting the farm animals!
Lattin's Country Cider Mill and Farm, 9402 Rich Rd SE, Olympia, WA 98501 (360) 491-7328
This 23,000 square foot indoor playground is one of the top Olympia attractions for thrills with the Wall Tramp, Ninja Course, Trapeze, and other challenges for thrill-seekers of all ages.
DEFY Olympia, 7960 Center St SW, Tumwater, WA 98501 (360) 338-6786
One of the region's top performing arts venues, the Washington Center is home to 18 local performance groups and presents a season of national and international touring artists every year.
Washington Center for the Performing Arts, 512 Washington St SE, Olympia, WA 98501 (360) 753-8585
Olympia Breweries & Nightlife
View this post on Instagram
Best Olympia Restaurants
Olympia may be small, but it boasts world-class cuisine, amazing local seafood, and an exciting brewpub scene. Here are just a few of the top restaurants in Olympia WA you'll love.
This Northwest Brasserie in the Historic District offers a casual atmosphere with a fun menu of small plates, salads, and burgers plus a diverse vegan menu and local craft beer and wine.
Cascadia Grill, 200 4th Ave W, Olympia, WA 98501 (360) 628-8731
An Olympia landmark, the oyster house is located in the building where the Olympia Oyster Company culled the local oysters in 1859. The oyster house is the go-to eatery for fresh seafood dishes, including clam chowder, oyster stew, and fried oysters.
Olympia Oyster House, 320 4th Ave W, Olympia, WA 98501 (360) 753-7000
Iron Rabbit is one of the best family-friendly restaurants in Olympia, with an open kitchen, diverse menu, and large selection of local craft beer, wine, and spirits.
Iron Rabbit Restaurant & Bar, 2103 Harrison Ave NW, Olympia, WA 98502 (360) 956-3661
View this post on Instagram
Olympia Jobs & Economy
If you aren't moving to Olympia for a job, you probably want to explore career opportunities before you relocate. As the state capital and county seat, about one-third of non-farm jobs in Olympia are government jobs. Transportation, health care, industrial supplies, machinery, and agriculture are also major industries.
Major employers in Olympia:
State of Washington
Thurston County (jobs)
City of Olympia (jobs)
Olympia School District (jobs)
Providence St. Peter Hospital
Capital Medical Center
YMCA
Washington State Employees Credit Union
According to the BLS, the average wage in Olympia is $65,960, with an average hourly wage of $31.71 and a median wage of $26.01.
Here's what you can expect to earn in the most common occupations:
General and operations managers: $115,130 ($55.35/hour)
Registered nurses: $97,540 ($46.89/hour)
Accountants and auditors: $85,810 ($41.25/hour)
Software developers: $120,350 ($57.86/hour)
Social workers: $65,210 ($31.35/hour)
Elementary school teachers: $83,640
Fast food and counter workers: $33,660 ($16.18/hour)
Most people work in Olympia and surrounding communities rather than commuting to Seattle. The average commute is 21.4 minutes, well below average for the state, which has a 27.7-minute average commute.
Schools in Olympia
While living in Olympia WA, you will be served by the Olympia School District, which has about 9,600 enrolled students in 19 schools. Families can appreciate that Olympia Washington public schools are highly rated. Olympia High School is ranked #25 in Washington with a 95% graduation rate and 42% AP participation rate. Capital High School has a nationally recognized International Baccalaureate (IB) program and automatically registers all juniors and seniors for IB classes.
View this post on Instagram
Families can choose from many private schools in Olympia, including Olympia Waldorf School (PK-8), Olympia Community School (K-5), NOVA Middle School (6-8), and Pope John Paul II High School (JPII) in neighboring Lacey.
It's easy to pursue higher education with two colleges in the city: South Puget Sound Community College (SPPCC), with certificate and associate's degree programs, and Evergreen State College (TESC), a public liberal arts college.
Olympia Statistics & Information
County: Thurston
Olympia area: 20.09 square feet
Olympia zip codes: 98501 to 98599
Olympia area code: 360 and 564
Olympia elevation: 95 feet
Time zone: UTC-8 (PST)
Closest airport to Olympia WA: Olympia Regional Airport (OLM) and Seattle-Tacoma International Airport (SEA), 49 miles away
Olympia WA Map
Ready for life in Olympia Washington? The friendly team at All Ready Moving & Storage is here to help! Call our Olympia movers for a free moving quote today so we can take over all the hard work of your move.