The city of Olympia prides itself on being a central hub for local culture, a nice resting point for people heading to the Pacific Coast, and its role in state government as the Washington capital. Along with these many features, people living here enjoy great communities, fun local activities, and great places to eat.
Are you searching for the best neighborhoods in Olympia before moving there? This guide will give you a headstart with key details about 8 of the top local communities!
By the way, if you are looking to buy or sell a home in the area we recommend contacting Greene Realty Group.
1. Nottingham – Not the One from Robin Hood
If you're lucky enough to score a home in this small community with barely over 200 people living there, you'll find yourself in one of the most affluent and safest Olympia neighborhoods in town. Located on the southeast side of the city, it has beautiful residences along English-named streets such as Buckingham Drive, Victoria Court, and Norfolk Court.
View this post on Instagram
Less than two miles to the west, you'll find local amenities and places to shop including Safeway, Pellegrino's Italian Kitchen & Catering, Papa John's Pizza, as well as Uncork and Unwind. The neighborhood is home to the city's top high school at Olympia High, along with Pioneer Elementary and Sunrise Beach School.
2. North East Olympia – Historic Neighborhood Getting a Makeover
This historic community has recently been going through new development to update and renovate many aspects of the area to make it even more comfortable and inviting to new people moving there. With these changes taking effect, North East has become a great Olympia neighborhood for families and young couples looking to build a family. It also has the largest and most active neighborhood association in the city, called the Northeast Olympia Neighborhood Association (NENA).
A common name you'll see and hear around this part of town is "Bigelow" with popular local spots that include the Bigelow House Museum, which is the oldest home in the city of Olympia. The North East Olympia neighborhood also has the Bigelow Park and Bigelow Lake, along with Olympia Little Theatre, the oldest live theatre in the city.
3. South Capitol – Speaks for Itself
Olympia is the state capital of Washington and you'll find the State Capitol Building in the downtown area. Directly south from there is the aptly named Olympia neighborhood of South Capitol. The community has a variety of historic buildings in the area including many of the houses, making it a well-established part of town.
South Capitol has been considered by many people in the area to be at or near the top of the best neighborhoods in Olympia. The area of Stevens Field is one of the best amenities with multiple sports fields, picnic spots, and open space. Some of the best restaurants around the South Capitol neighborhood are Vic's Pizzeria Wildwood, the Capitol Grill and The Lucky Lunchbox.
4. Cain Road – Not Just Another Street in Olympia
While the Olympia neighborhood along Cain Road has the second-highest median income in the city, it also has some of the most affordable homes. Though you will find a decent balance of older, historic houses and newly developed properties around the area. Homes along either side of Cain Road can range from anywhere under $300,000 to a handful of locations over $900,000
Located directly north of Nottingham, you'll find many of the same amenities within a close distance if you decide to purchase a home in this community.
5. East Bay Drive – Waterfront Property in Olympia, WA
Another one of the safest neighborhoods in Olympia is the area along East Bay Drive. With waterfront properties along the Budd Inlet, this gorgeous community boasts some of the nicest homes in the city. It is immediately south of the fun, engaging beach activities that can be found at the nearby Priest Point Park as well as the spectacular Samarkand Rose Garden.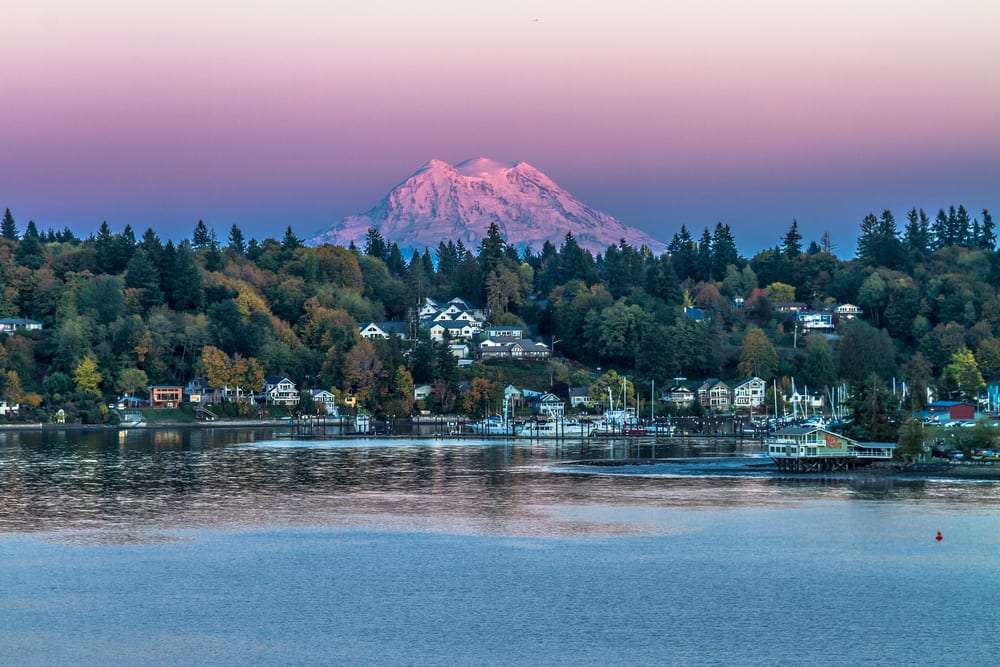 As you can imagine, the homes in this Olympia neighborhood are among the most expensive in the city but if it fits within your budget, we highly recommend you take a look.
6. Castlewood – Family-friendly Olympia Neighborhood
As one of the best Olympia neighborhoods for kids, Castlewood is a strictly residential community with affordable homes and convenient amenities on every side. People with children will have close access to LBA Park, Margaret McKenny Park, and Chambers Lake Trailhead Park, which all have fun activities and great things to do for all ages.
Young students living in the Castlewood neighborhood will most likely attend Margaret McKenny Elementary School and then move their way up to Washington Middle School. And while you'll have to drive a few miles north to find local restaurants like Izzy's and Taco Time, you'll always have access to a never-ending supply of berries, jams, and jellies at the Johnson Berry Farm.
7. Eastside – Near Downtown but Slightly to the East
Only about one mile east of downtown Olympia, the Eastside community covers a large area that is mainly residential, with a few commercial locations dotting the map. Home to beautiful school campuses like the ones at Avanti High and Madison Elementary, this area does present good opportunities for kids as well. Local playgrounds and open green spaces can be found at both Lions Park and Madison Scenic Park, providing great activities nearby.
View this post on Instagram
This area is also home to one of the most popular places to eat in Olympia known as Eastside Big Tom, where you can drive up to grab a juicy burger and a delicious shake. While another hidden gem you'll find in the Eastside neighborhood is the Yashiro Japanese Garden, a captivating space featuring beautiful greenery, handmade sculptures, and a koi pond.
8. Indian Creek – One of the Quietest Olympia Neighborhoods
With an average age of 52 years old in the Olympia neighborhood of Indian Creek, many of the people living in this community are retirees looking for a calm, quiet place to plant their roots. And this area is great for that, boasting a low crime rate and clean, comfortable streets.
Indian Creek is also one of the most religiously centered Olympia neighborhoods with more than five churches in the community including the Center For Spiritual Living, Westminster Presbyterian Church, Kingdom Hall of Jehovah's Witnesses, and the Church of Living Water. If you're ever looking for a serene place to take a walk, head over to the Woodland Trail / Frederick Street Crossing or McGrath Woods Park for beautiful scenery during your stroll.
Olympia Neighborhoods Map
Ready to Choose from These Olympia Neighborhoods?
From property along the water to calm, quiet communities on the outskirts of town, there are so many options when choosing where to live in this area. Whether you're moving to any of the neighborhoods in Olympia listed above or you choose another part of town, you're sure to enjoy this great city and all it has to offer.
As soon as you've decided on the place for you, make sure you contact our professional crew of top-rated Olympia movers to assist with the transition. Give us a call today at (360) 507-2447 to learn more or complete the Request a Quote form on this page for a free Olympia moving estimate!